The Artist Experience…
Responding to a Beat call for Artists, I attended preliminary meetings, presentations and discussions with David Boyd and a number of artists. I had the opportunity to meet with Mykhailo (Misha) from Izolyatsia and learn about their history and about the conflict in Ukraine. Misha and David also had the opportunity to visit my MFA show at the University. I submitted a proposal along with other artists and I was delighted to be engaged as participating artist on this project.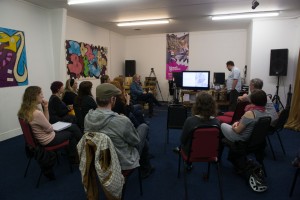 I was interested in the project from several perspectives, primarily because as a mature artist I grew up during the conflict period in Northern Ireland and my previous and current work reflects in part upon that experience. Having had the opportunity to engage with other conflicted societies – Native American, Israeli/Palestinian – through my cross community music work with Different Drums of Ireland, I was also interested in the comparative dimensions of these situations and how artists choose to express themselves relative to conflict.
I had hoped that during the period of the visit there would be an opportunity to spend significant time with an artist or artists in exploring the kinds of themes mentioned above and to perhaps creating a joint response. Unfortunately this was not possible and as evidenced during the trip, this appears to arise from the majority of contemporary Mariupol and Donetsk Regional artists having left the city and relocated to Kiev. Izolyatsia being just one example.
We did meet briefly with a small number of local artists and had the opportunity to discuss and review their work. It was mostly conflict-reflecting, often made on the front line because of the artists' relationships with the serving military. Stylistically the work appears consistent with the formal training that we saw at the art school in the city, based on academic technical skills and focusing on traditional portraiture and still life. The gallery in which several of the events were held also seemed to hold mostly traditional painting media and subject matter.
My own presentations in Mariupol and Kiev were based on illustrating the use of visual symbolism in N Ireland; a situation with many similarities and equally many differences to Ukraine. David Boyd from Beat Carnival gave explanations of legacy and current events. David explained how without a budget or official support, art and carnival specifically, was used in developing and increasing community spirit and positive public engagement in the face of adversity. To paraphrase David, 'To bring people out onto the streets of a conflicted city for peaceful and joyous purpose rather than one of protest or conflict'.
For me the main opportunities for taking away experiences from the visit were the opportunities to discuss the topics with the public and in small groups. The Ukrainian political situation is clearly inescapable and featured heavily in most conversations. Understandably, we encountered few, if any, people who had a public pro-Russian outlook and therefore it is impossible to claim any kind of representative experience nor opportunity for cross community reflection. Whilst everything was quiet in terms of conflict during the period of our visit, there were strong visual reminders of the recent past; makeshift memorials and dead protester's shields surround Maidan square, Kiev; fire-destroyed buildings, handwritten aerosol 'graffiti' pointing to the nearest bomb shelters and the ubiquitous blue and yellow of the Ukrainian flag evidenced as we moved around the country.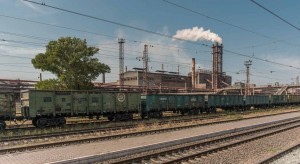 It became clear was that there seems to have been a strong dependency on 'the machine', with industry controlling workforce supply through providing schools, apprenticeships and then on into factory work, the path essentially laid out for each citizen. The arts are little different in dependence excepting that beyond trained academicians, there seemed to be little support for community arts.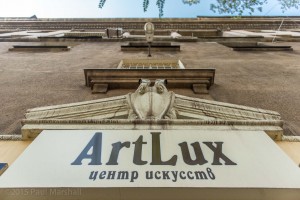 What assistance there was, made people reliant on the state or city 'doing it for them' through funding, logistics or both. The short opportunity that we had for free expressive art play at the art school was very enthusiastically received by participants and that seemed to be something of a pleasant surprise to the staff. I hope that in the wake of our visit, we left behind a little more free rein…
The environment that I experienced felt as if the arts system was broken. Several small but keen independent art communities exist but seem to be often competitive, with people unsure how to move things forward themselves. What's the point? Who's going to fund it? What about all the bureaucracy? There was a keen interest in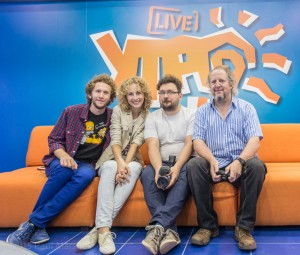 the approaches and examples that Belfast and Beat Carnival can provide and how it can be achieved without much funding, if any.
Impressive throughout was the ethos and fresh approach of Izolyatsia. Misha is an excellent ambassador. It is clear that they speak to a more active and contemporary outlook toward the power of art in society. Their work is broad, challenging and expressive, the depth of their engagement within the European arts network and their ability to bring many disciplines together even at these uncertain times can only generate a positive creative momentum and a means for others to experience and interrogate their conflict.
I'd like to express a personal thanks to Misha and to David for selecting me to engage on this project and for the experience that it was, even the 40 hours in the train. Thanks to Ira for her excellent language and cultural assistance throughout our visit. Thanks to Beat Carnival, Izolyatsia and the Tandem programme for bringing this together.
Mostly, thank you to the people of Mariupol for their strong spirit & resilience. There is hope. Mariupol will not die.
About Paul
⁃ Method & Practice
⁃  Fine Art Digital media: video, audio, photo and web-facing technologies underpinPaul's practice.
⁃  His video work is often filmic in nature and frequently uses surround sound to enhancethe immersion experience in the Fine Art installation environment for which it is designed
⁃  Paul often works in a multi-media installation environment
Contexts
⁃  Paul's work is largely themed on people and places, connections and sense of identity. Growing up in N.Ireland through the troubles, these have been themes of ubiquity and are reflected in much of his work to date. With the benefit of having travelled widely, he is further struck by the idiosyncrasies of N Ireland, the suspension of mutual benefit in preference for tribal logic. Paul believes 'post conflict' in Northern Ireland is a misnomer, we simply became differently conflicted.
⁃  Paul's personal research interests and practice direction takes him to many places around the world and often to conflicted societies where similar themes are played out. Much of his current work at the minute is based around exploring these themes both inside and outside of Northern Ireland including working with Native American Ojibwe nation of Northern Wisconsin. He is also involved in an early stage documentary archive project with a large Irish Dance Company from Chicago,
Key ideas:
Place, memory, meaning, reflect, remember, not forget, media, archive, photo, video, sound, interpret, objectivity, the 'Beholder's Share', trigger, response, web.
Education
MFA Fine Art 2015 with distinction
MBA 1996
Awards
Royal Ulster Academy Award Outstanding MFA Graduate 2015
Digital Arts Studios MFA Residency Award 2015